MARCHANCE
Marchance Auctioneers 2018 Autumn Auctions to be held from 27 to 29 November featuring over 700 art pieces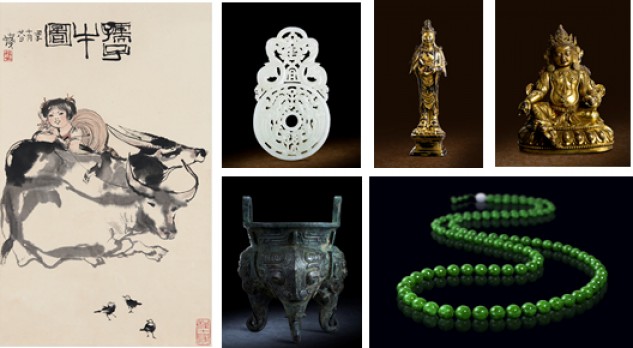 Marchance Auctioneers, Hong Kong's first auction house to specialize in ancient jade, proudly announces the upcoming 2018 Autumn Auctions to be held from 27 to 29 November at Renaissance Harbour View Hotel Hong Kong.
The sales will present more than 700 art pieces assembled from around the world, showcasing the treasure of Chinese history, culture and art with 5 auction series: Ancient Chinese Jade I, Ancient Chinese Jade II • The Evening Sale of Important Private Collections, Fine Chinese Paintings and Calligraphy, Important Buddhist Figures and Chinese Works of Arts, and a new session - Magnificent Jewels and Jadeite.
Mr. Lam Wai, Chairman and Founder of Marchance Auctioneers Ltd., says, "This spring we have achieved a landmark success with a new record, showing that our core value of 'being professional and trustworthy' have been commonly recognized within industry. We always possess the strong faith and sense of mission towards Chinese arts and culture. Through global consignment, we bring back rare Chinese pieces from overseas to where people share the cultural resonance and spiritual connection with them. What's more, we wish to create a new life style for the current era by unfolding the beauty of ancient Chinese artworks and exploring ways to bring these tokens of joy and spirituality into people's daily life."
For highlights and full release please click here.
Preview
27 November, 11am - 9pm; 28 – 29 November, 10am – 9pm
Auction
28 November (Wednesday)
18:00: Ancient Chinese Jade I
21:00: Ancient Chinese Jade II • The Evening Sale of Important Private Collections
29 November (Thursday)
13:45: Fine Chinese Paintings & Calligraphy
14:30: Magnificent Jewels and Jadeite
16:00: Important Buddhist Figures & Chinese Works of Arts
Location
Boardroom 1 - 6, Mezzanine Floor, Renaissance Harbour View Hotel
1 Harbour Road, Hong Kong (MTR Exit A1)
Public Enquiry:
Tel: (+852 2868 6938)
Email: enquiry@marchance-auctioneers.com
Media Contact:
Jovy Zhou
Tel: (+852 3468 3392)
Email: jovy.zhou@marchance-auctioneers.com